Blog: Quick! There's time to get your cloves in... One of the easiest crops you can start with is garlic - you can even grow them in a trough or large container if you don't have a proper garden. I much...
WHAT'S TICKLING YOUR GARDENING FANCY TODAY? TOP POSTS CHOSEN BY YOU
GARDENING FOR BEGINNERS
Exotic beauty's Patio Plant of the Year 2018 This year's a first for me growing Agapanthus, mainly because I couldn't resist a Thompson & Morgan...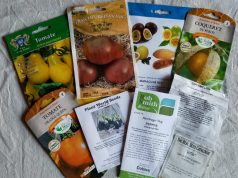 Fire up the propagator! February's the real start of the sowing season, at least if you have a heated propagator (for my advice on these,...
GARDENING NEWS, PRODUCTS, REVIEWS
GARDENING FOR THE LESS ABLE
FRUIT, VEG, FEATURED PLANTS, FLOWER SEEDS
Five of the best to try on the allotment, veg patch, or in pots High demand for seeds continues with the surge of interest in...
RECIPES AND DEALING WITH GLUTS